Voice
Although messaging, e-mails and social media communications have gained in importance, voice ­telephony is still important. When taking or placing a phone call, customers expect reliable connections. How do the Dutch mobile networks fulfil these expectations?
Container for the scroll indicator
(Will be hidden in the published article)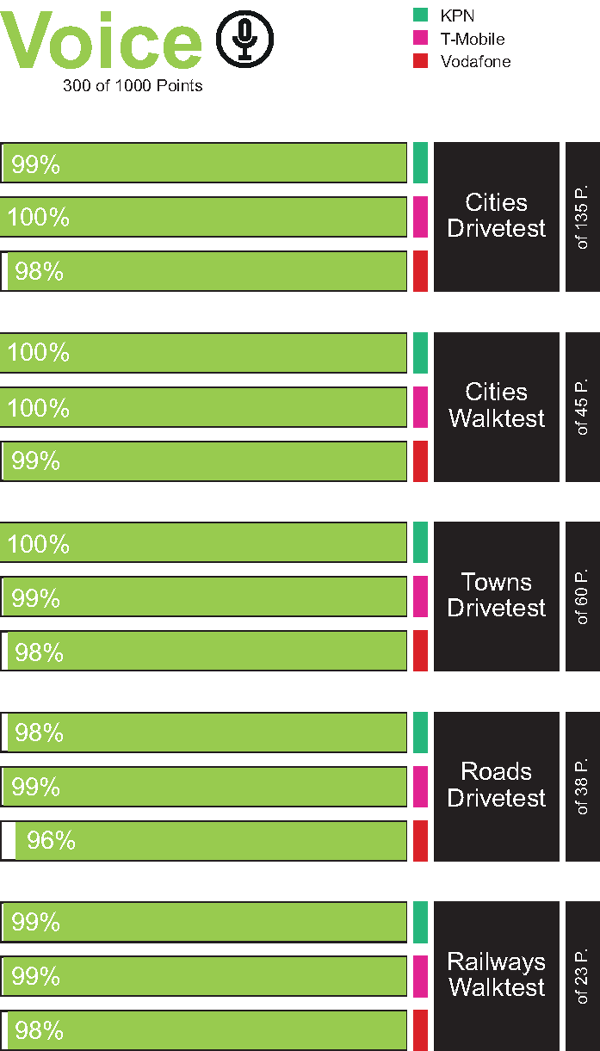 All three mobile operators in the Netherlands have been supporting Voice over LTE (­VoLTE) for years now. VoLTE transmits voice calls as data packets over a 4G connection and thus is a clear improvement over the "circuit-switched" connections in 3G or 2G networks. But with 5G a new challenge arises: For 5G-based telephony, "Voice over 5G" or "Voice over New Radio" would be required – but this technology has not yet found its way into the current network implementations. So as ­before from 4G to 3G, a new kind of fallback is needed – this time from 5G to 4G/VoLTE. For the voice rating, each of the two drive test cars and each of the two walk test teams
carried one Samsung Galaxy S21+ per operator. The phones in the cars called a counterpart in one of the other cars. The phones carried by the walk test ­teams in the cities and travelling on trains called a stationary counterpart. The connected testing equipment regis­tered the success ratios, call setup ­times and speech quality of the test calls. In ­order to simulate normal smartphone usage, additional data transfers took place in the back­ground of the calls. Also, the so-called ­MultRAB (Multi ­Radio ­Access ­Bearer) ­Connectivity denominates whether data connectivity was available during the test calls. The voice scores ­account for 30 per cent of the total result.
Cities drive test
T-Mobile
T-MOBILE LEADS IN A NECK-AND-NECK RACE IN THE DRIVE TESTS IN CITIES, CLOSELY FOLLOWED BY KPN AND VODAFONE
​In the larger cities, T-Mobile ­achieves the highest score by offering the shortest call setup times and excellent speech quality. But the gaps to KPN and Vodafone are very small, at only one percentage point each. All Dutch operators show almost perfect call reliability in this scenario and the other ones.
Cities walk test
KPN and T-Mobile
KPN AND T-MOBILE ON A PAR IN CITY WALKS TESTS, CLOSELY FOLLOWED BY VODAFONE
In the walk tests conducted in the Netherland's larger cities, KPN and T-Mobile both achieve an impressive score of 100 per cent, again by offering almost perfect call reliability, excellent speech quality and very short call setup times. Vodafone follows closely at a gap of one percentage point which can be explained mostly by slightly longer call setup times.
KPN TAKES THE LEAD IN the VOICE DRIVE TESTS CONDUCTED IN TOWNS, CLOSELY Followed BY T-MOBILE AND VODAFONE
In the drive tests conducted in smaller towns, KPN takes the overall lead, but the two other contenders ­follows at a very narrow distance – at a gap of one percentage point each. KPN's lead comes from the highest success ratio, while T-Mobile achieves the shortest call ­setup times. Vodafone performs on a ­similar level, but again shows slightly higher call setup times – with the exact same results in smaller towns as were already determined in the larger cities.
T-MOBILE CLOSELY LEADS IN VOICE DRIVE TESTS CONDUCTED ON DUTCH ROADS. KPN FOLLOWS AT NARROW GAP
While travelling on the connecting roads between the cities and towns, the drive test cars determined the best voice results for T-Mobile, followed at a narrow gap of just one percentage point by KPN. Again, T-Mobile shows the shortest call setup times – and it is also slightly ahead in terms of speech quality. KPN also shows excellent results, but is behind T-Mobile in these KPIs as well as in MultRAB Connectivity. The gap to Vodafone is slightly more pronounced with a minimally lower speech quality and slightly lower success ratios – but Vodafone still performs on a very good level.
railways Walk test
KPN AND
T-MOBILE
T-mobile and KPN ON A PAR WITH VERY GOOD RESULTS in voice tests on trains. Vodafone FOLLOW AT A VERY NARROW DISTANCE
Providing voice connectivity for passengers travelling on trains is particularly demanding. Still, even in this scenario, the Dutch operators achieve very high success ­ratios, short setup times and a very good speech quality. In this scenario, T-Mobile and KPN score on a par – with impressive call setup times and success ratios. Due to slightly longer call setup times, Vodafone is one percentage point behind – but also offers very good results in this ­demanding scenario.
Voice Results at a Glance
The competition in the voice category takes place on the highest level. All three Dutch mobile operators ­offer almost perfect call reliability, fast call setup ­times and excellent speech quality – even in the more demanding scenarios such as performing calls on the road or while travelling on trains. In the overall assess­ment, KPN and T-Mobile score on a par in the voice category, and Vodafone follows at a narrow distance with also very good voice results.
Container for the dynamic page
(Will be hidden in the published article)